Posted on
By Samantha Martin
Argyle was founded in 1987 by Rollin Soles, who saw that the Willamette Valley's cool climate closely resembled that which is found in Champagne and Burgundy.  Naturally, the winemaking that followed included sparkling wine, Chardonnay, Pinot Noir, and now Riesling.
These days, Argyle is led by winemaker Nate Klostermann, who trained with Rollin Soles for eight years before being hand-picked to be his successor. Klostermann's team works through more than 400 acres of estate fruit that sees a wide variety of microclimates, soil types, elevations, and exposure to sun and wind. Over three decades later, and with awards for red, white, sparkling wines under its belt, Argyle continues to cultivate a tender relationship with the land, stay innovative, and lead the Oregon winemaking community.  Argyle truly is the benchmark for many so much across winemaking, the least of which - bubbles!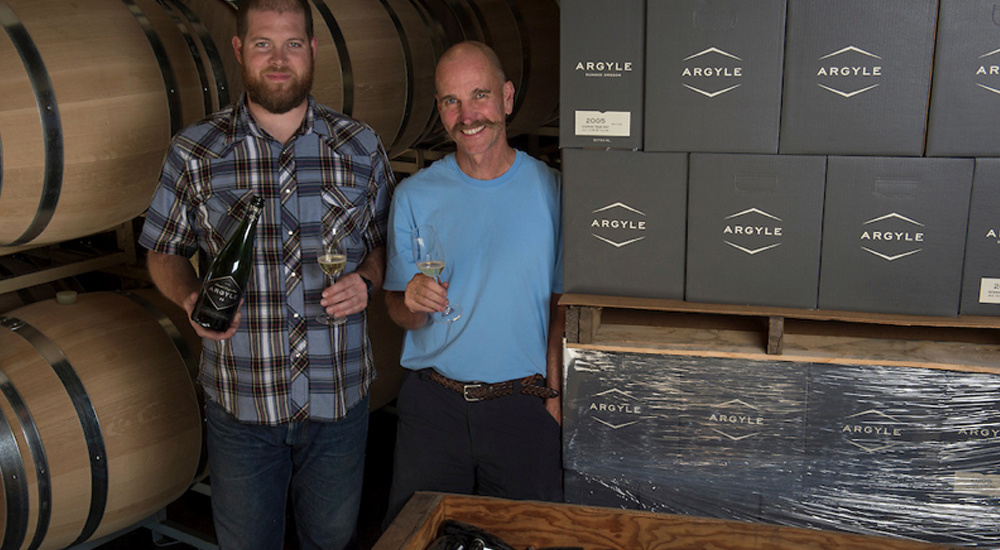 Argyle was the trailblazer for American sparkling wine made with prestige and care. Prior to Argyle's foundation, offerings were mostly limited to force-carbonated wines (read: of lesser quality). Argyle recognized the potential of the similarities in the Willamette Valley terroir to the region of Champagne and committed themselves to making their sparkling wines in this traditional manner. Méthode traditionelle is known by many names - Metodo Classico in Italy, Methode Cap Classique in South Africa, Método Tradicional in Spain - but it always indicates a wine that is labor-intensive and cost-prohibitive. 

Argyle's Vintage Brut is made as closely to traditions in Champagne as possible. This wine is composed of all estate-grown, hand-picked fruit - 55% Chardonnay, 35% Pinot Noir, and 10% Pinot Meunier that comes from high elevation with cooler weather. Harvest happens early for the components of this wine to ensure slightly underripe grapes that will lead to higher acidity. Argyle takes it to the next level by aging on the lees for a minimum of three years and this wine is "disgorged on demand" in order to ensure freshness.
Argyle's Extended Tirage Brut is a bottling that only appears in special vintages. These wines are aged for ten years on the lees, but thanks to fresh disgorgment, it finds the perfect balance between a creamy, layered texture with vibrant acidity. Further distinguishing this wine is its Pinot Noir-heavy composition. This is the pinnacle of Argyle's sparkling wine program.
Argyle's Nuthouse Pinot Noir is a seriously luxurious wine. Named for a former hazelnut plant that once housed the original Argyle winery in Dundee, Nuthouse reflects Argyle's sense of humor but once you have the wine in your glass, you'll understand that the wine is no joke. This single vineyard, partial whole-cluster pinot noir commands respect with its balance between fresh acidity, silky tannins, and dark cherry fruit. You're welcome to enjoy a bottle now, but would be wise to cellar one for a few years to see how the wine continues to develop in the bottle.