Posted on
By Samantha Martin
The idea for Ampeleia came to Thomas Widmann, Giovanni Podini, and Italian rockstar winemaker Elisabetta Foradori in the winter of 2000.
Foradori, who had met a young Marco Tait while still in viticulture school, first enticed him to work his first harvest at her estate, working on Teroldego. This led to her hand-picking him to work the first harvest at Ampeleia. Marco agreed to work the first harvest at Ampeleia as a bit of a trial period, not realizing that he would eventually dedicate his next twenty years (and counting!) to this project.
The founders spent two years searching for the perfect land to lay their roots, and finally discovered Roccatederighi, a small village in Tuscany. They immediately were struck by the beauty of Upper Maremma, and knew that this place was precisely what they were dreaming of.
From the beginning, Marco Tait was enamored with the potential of Cabernet Franc on their land, and this love led him on a search for other traditionally Mediterranean varietals with a similar genetic makeup. Soon, he was also planting Alicante Nero, which is the local dialect for Grenache.
While on this journey to find the best varietals for the land, Tait also quickly transitioned to organic farming before making the full conversion to biodynamic farming in 2009. A recurring phrase as they work to be as close to a closed cycle as possible? Everything is life, and everything generates more life.
Currently, there are 35 hectares of vineyards that Ampeleia calls its own. These 35 hectares are divided into four primary units, with altitudes ranging from 250 to 550m above sea level, and microclimates that vary from Mediterranean and maritime to continental and cool. All four of these vineyard sites are located within the Colline Metallifere Geopark, one of the nine UNESCO-recognized World Geoparks of Italy.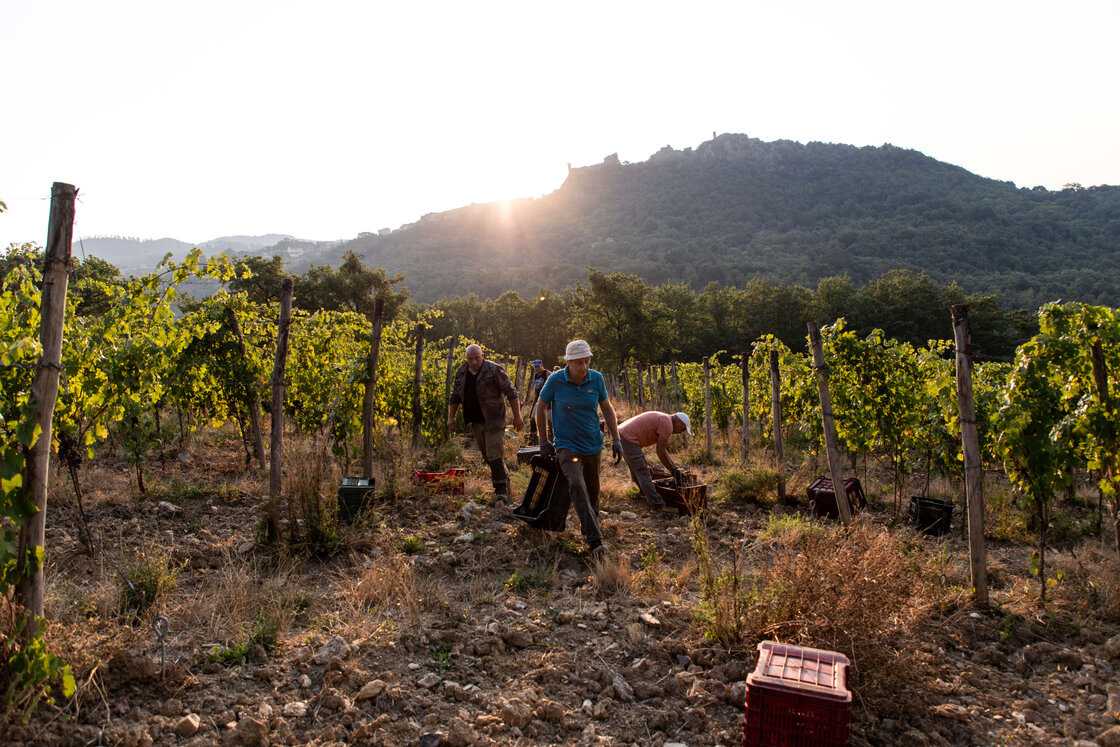 Cabernet Franc is the primary planting at La Rocca vineyard, Ampeleia's largest vineyard, and is co-planted with Bianco and Merlot. It is a south/southeast facing natural amphitheater, and gets its name from the spur of rock on its left, upon which Roccatederighi was built. On a clear day, one can see past the Island of Giglio to Elba and Corsica. La Rocca is cooler, with a large diurnal swing in temperatures. 
Sassoforte is a 5 hectare vineyard with south/southeast exposure divided into 7 parcels of Carignano, Mourvèdre, Alicante Nero, and white grape varietals that exemplify Mediterranean character. Its name comes from the highest mountain in the surrounding area, where you can find the ruins of an ancient castle that was once used as a lookout point.
La Pieve vineyards are 10 hectares, planted with mostly Alicante Nero, Mourvèdre, and Carignano, which are bottled in Unlitro, Rosato, and Kepos. Its open, well-ventilated parcel helps to create delicate and light wines. 
Cannucceto is over 7 hectares and closest to traditional Maremma, and quite obviously influenced by the sea. Limestone deposits and marine fossils are found in the clay soil. The vineyard has various exposures over its hilly expanse. This is the home of the plantings that comprise the majority of Unlitro – Alicante Nero, Alicante Bouschet, Mourvèdre, and Sangiovese.
---